It goes silent at twilight, the cacophony of the background fades till pin drop silence, bereft of tourist and there is no menace in the jungle. But its just when you are trying to twirl you ears for some sound, the silence is intervened by flocks of elephants in Periyar Wildlife Sanctuary Indentured within the Western Ghats in the southern Indian state of Kerala, Periyar National Park and Tiger Reserve is one of the most outstanding wildlife parks in the world. Located at the center of park, this sanctuary possess a picture perfect lake, where the water surges forward, inundating the land. The day is full of commotion and golden streaks exude their colour in the night. But at once you can ind that beauty and nature go hand in hand at Periyar Wildlife Sanctuary. Besides the nature and beasts faces from world over are seen in the sanctuary. An amazing destination, Periyar is rightly termed as 'Jewel of South'.
Main flora found in Periyar: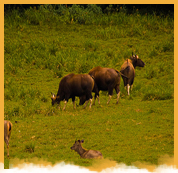 Periyar Widllife Sanctuary boasts a quite rich and diverse flora. The flora in Periyar National Park chiefly comprises of Tropical Evergreen forests (30,500ha) and Semi-evergreen forests (27,500ha) around the reservoir, and Moist-deciduous forests and Woody grasslands in the central part of the park.
The major flora in the park include the Teak, Rosewood, Terminalia, Eucalyptus, Sandalwood, Jacaranda (a hardwood timber tree with purple flowers), Mango, Jamun, Tamarind, Banyan, Pipal, Plumeria, Gulmohar and Bamboo among many others. The thick vegetation of the Periyar wildlife sanctuary provides both excellent cover and nourishment in the form of succulent shoots and grasses.
Season(Periyar National Park)
Monsoon: Southwest and Northeast monsoon with maximum rainfall in July and minimum in January.
Summer: April-May
Winter: December-January