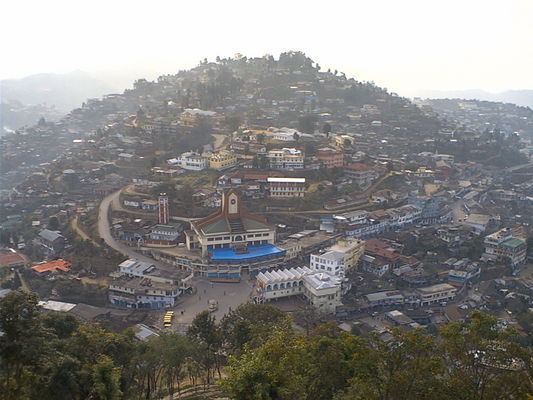 A scenic town blessed with breath taking natural beauty, history and culture,  there are many places of tourist. Kohima, is the capital city of Nagaland, which shares its borders with Burma and this is one of the seven sisterly states of North-eastern part of India. With a resident population of 267,988 it is the second largest city in the state. Despite being a commercial hub, Kohima hasn't lost its natural charms and remains one of the most charismatic destinations to see in the state.  It is situated in the foothills of Japfu range located south of Kohima District  and has an average elevation of 1261 metres (4137 feet).
Kohima was originally known as Kewhira, The name, Kohima, was officially given by the British as they could not pronounce the Angami name of Kewhira . It is called after the wild flowering plant Kewhi, found in the mountains. Most local people still uses the word 'Kewhira'. Earlier, Kohima was also known as Thigoma. For most parts of its history, this place remained isolated from the rest of the world like most other places inhabited by the Nagas. It was in 1840 that the British came to this place only to meet stiff resistance from the different Naga tribes. After nearly four decades of skirmishes, the British administrators were able to take control of this territory and set up Kohima as the Administrative Headquarters for the Naga Hills District which was then a part of Assam. On 1st December 1963, Kohima was christened as the state capital with Nagaland becoming the 16th state in the union of India.
Kohima witnessed some of the fiercest battles during World War II such as the Battle of Kohima and the Battle of the Tennis Court between the advancing Japanese army and the Allied Forces. It is here that the Burma Campaign turned on its heels for the Japanese Empire and changed the entire course of war in South East Asia. It was here that the Allied Forces were able to stop the advancement of the Japanese. Kohima War Cemeterymaintained by the Commonwealth War Graves Commission is one of the major tourists' attractions with hundreds of soldiers having been laid to rest here.
Kohima is an exquisite hill station located at an elevation of 1261 m above mean sea level. Kohima is a city surrounded by lush green nature with a variety of flora and fauna that are a delight to any visitor. The panoramic view of the surrounding lush green mountains is amazing and one wonders why god has been partial and showered all the natural beauty on Kohima. Some destinations in Kohima that are a must visit are as below:
Kohima Museum :
Kohima Museum houses some rare artifacts of the sixteen Naga tribes. Some of the artifacts displayed here include traditional colorful dresses, clan motifs, dialect, practices, equipments and objects depicting traditions. The displays takes you through a journey that helps discover the Naga tribes' tradition and cultures. This is a platform that exhibits the vibrant culture of Nagaland through a collection of fascinating arts and artifacts.
Kohima Zoo :
Kohima Zoo is another important location to visit in Kohima. The Kohima Zoo is home to the state bird (Tragopan) and the state animal (wild buffalo, also known as Mithun). The zoo is located on a hill and the sloping portion of the hill is used to create a free and natural place to house the zoo animals.
War Cemetery : 
If you are interested in history, a visit to the Kohima War Cemetery will be a worthwhile experience for you.  Landmark dedicated to as many as 10,000 brave soldiers of the 2nd British Division of Allied Forces who gave up their lives in World War II at Kohima during the year 1944. The Cemetery is maintained by the War Graves Commission of the British Government. Even today relatives and friends from far across UK and elsewhere visit this cemetery to pay their respects.
Japfu :
Flaunting itself as the second highest peak of Nagaland, Standing at a height of 3048 meters above sea level. The peak is not only an attraction for trekkers, but also for photographers and nature lovers who want to witness and capture the panoramic vistas of nature. Situated at 15 km south of Kohima, The viewfrom the top of this peak is absolutely gorgeous.  Japfu is one of the best places to visit in Kohima. October to May is the best time to plan a holiday trip to the Japfu Peak, Kohima
Fastivals of Kohima :
Festivals in Kohima are celebrated with much grandeur.  Hornbill Festival Held in the month of December, Hornbill Festival is a cultural festival of dance, sport, art, food and performances etc. It is an extremely nice festival and all tribes of Nagaland celebrate this festival with each other along with the tourists with immense zeal. The week-long Hornbill Festival is held at Kisama Heritage Village. Festival highlights include Naga Morong, exhibition and sale of arts and crafts, food stalls, herbal medicine stalls, flower shows and sales,food and beverage stalls-showcasing the tribes beverages in dragons sized wooden casks. cultural medley – songs and dances, fashion shows, beauty contest, archery, Naga wrestling, indigenous games and musical concerts. Additional attractions include Konyak fire eating demonstration, pork fat eating competitions, literature fest, Hornbill Global Film Fest, Hornbill Ball, Choral Panorama, North East India Drum Ensemble, Naga King Chilly eating competition, Hornbill National Rock Contest.
Best Time To Visit :
One can visit Kohima throughout the year, though best is between November to March. Kohima receives considerable rainfall during summers (March to June). The place has a pleasant and temperate climate. Winters (November to February), however, are chilly and temperature can plunge to subzero levels during nights. Snowfall is common during winters
How To Reach : 
Kohima is well connected with road, rail and air. The nearest airport is Dimapur Airport at Dimapur about 74 kilometres away.  By Train again Dimpur is nearest Rail Station. Kohima is connected by road with National Highways 2 and 29 passing through the city. 
 Image copyright by transindiatravels.com, militaryhonors.sid-hill.us.com, tripoto.com, turistinindia.com, holidayiq.com