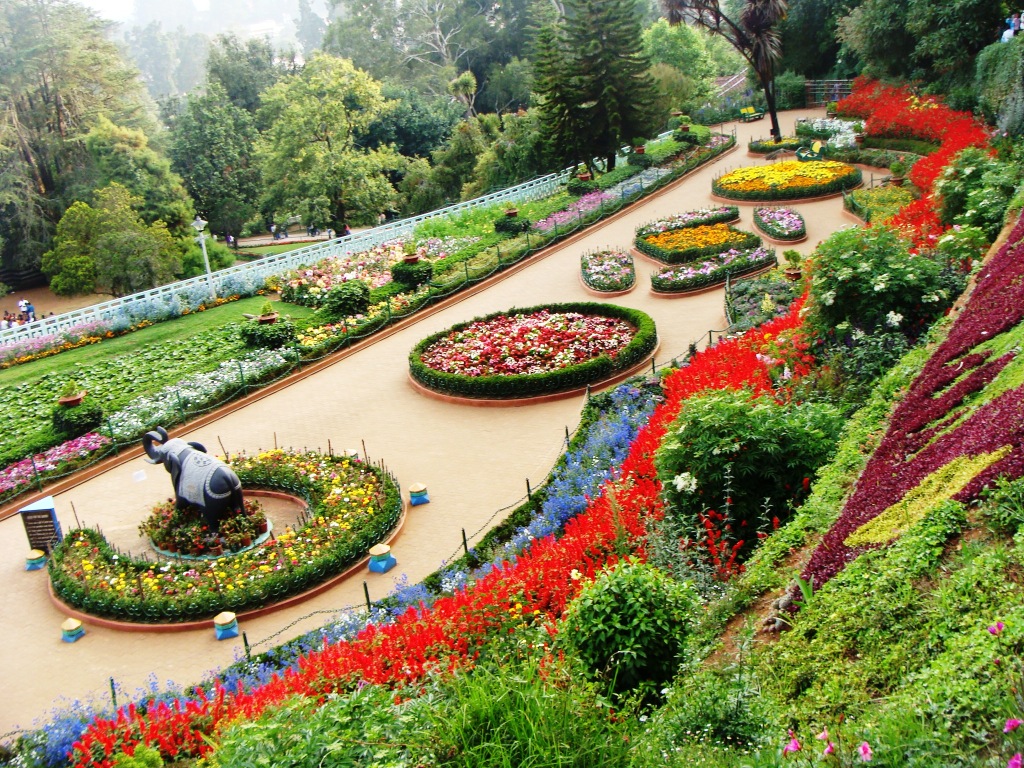 The Rose Garden of Chandigarh, also known as the Dr. Zakir Rose Garden, it was established in 1967. Zakir Hussain Rose Garden Asia's largest Rose Garden and Home to 50000 Rose bushes  is spreaded over 30 acres of land having over 1600 different species or roses.  And it was set up with the help of late Dr M S Randhawa, the first chief Commissioner of Chandigarh.
Zakir rose garden not just consists of the gorgeous roses, but also trees of medicinal value. Some of the medicinal plants that can be spotted here are bel, bahera, harar, camphor and yellow gulmohar. Rose garden serves as the venue for hosting the annual festival of gardens, a major cultural event of the city. The rose plants have been planted in carved-out lawns and flower beds. Some of the other Roses you can see here are Only You, Dulhan, King's Ransom, Hippie Girl, Love Me Tender, Careless Love, Lover's Meeting, Delhi Prince, Oklahoma, American Heritage, Louisiana, Canadian Centenary, City of Belfast, Wild Plum and Dorothy Peach!  Beyond Roses, there are many shrubs, medicinal plants and climbers in the Rose Garden.
Rose Festival :
Apart from serving as a host of other events, the Zakir Rose Garden serves as the venue for hosting an annual rose festival called Rose Festival, Every Year, Rose Garden plays host to the immensely popular Rose Festival in Feb-March. More than 300,000 people come to visit the Rose Garden during this period. Flower Cutting and Flower arrangement contest are also organized between participants as well as the audience, The attractions include food, drinks, joyrides, and contests of varying nature, such as photography, gardening, landscaping,bonsai, Rose Prince and Princess, Concerts, musical nights, comedy shows entertain the visitors held during festival. The contests are open to the residents or institutions from nearby places.
Lets see some amazing image of The Rose Garden.
How to Reach :
Chandigarh city is situated in the northern part of India in the state of Punjab. It is well connected with road, rail and flights to other parts of India.
Air : 
Chandigarh airport (IXD) is the nearest airport which is 15 km away from CIAB campus. The airport is well connected with Delhi and other parts of India.
Rail :
Main Chandigarh Junction Railway Station (CDG) is well connected to all other important cities in India. The Chandigarh Junction railway station is at a distance of about 20 km from the CIAB campus
Bus : 
Good bus services are available in Chandigarh. From Chandigarh non-AC/AC bus services are available for Delhi (260 km). CIAB campus is about 10 km from the Chandigarh bus terminus at ISBT Road (Sector 17).
Image copyright by blogvia.com, tourdas.com, plusegoogle.com, mtmohali.com